Smaller and Smaller Circles
By F.H. Batacan
University of the Philippines Press, QC
2002
155 pages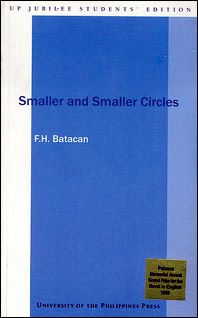 Sometimes a rare gem of a novel like this comes along your way like a pigeon dropping guano on top of your head. For one, this tome was neatly tucked away among the different volumes of other Filipino novels that I could have missed this title if I had not browsed through thoroughly the Powerbooks shelves. More importantly, F. Batacan's work is a patently Filipino whodunit novel full of shady characters and CSI-inspired plots, which is rare enough these days because our masochistic literary shelves are already crammed with Spanish-abused Noli me wannabes, Martial Law desaparecidos, WWII comfort diaries, EDSA "me-&-4-million-other-usiseros-were-there" analyses and Jessica Zafra's constipated insanities. Most are angst ridden and emotionally rich stories to break and make your achey, achey little heart. Not this one.

Set in a highly wounded, straight-forward, no-nonsense, James Pattersonesque tone, F. H. Batacan's 1999 Carlos Palanca grand prize winner, Smaller and Smaller Circles is one gripping novel that you can finish in one or two sittings. It's one of the best gripping reads during a rainy day. If Agatha Christie lived here, she would have written the same novel.

PDI columnist Ruel de Vera wrote: "Dead, mutilated bodies of children are discovered in and around the Payatas area of Quezon City, with faces, hearts and genitals missing. It seems that a serial killer -- yes, a Pinoy serial killer -- is picking off a juvenile victim on the first Saturday of every month." This prompts Augusto Saenz, priest cum forensics anthropologist and Fr. Jerome Lucero, psychologist and side-kick, to sniff out the killer among the hidden garbage heap of Payatas.

Besides the priests investigating the skeletal clues left behind by the victims, there's a motley of characters which Batacan satirizes with sheer precision. One of which is Benjamin Arcinas, the NBI lawyer who is caricatured as corrupt, inept and who gets a confession by torturing the "suspect." No wonder most criminal cases are thrown out of courts because of lack of evidence. And Joanna Bonifacio, the pretty yet headstrong TV journalist who helps Saenz in the investigation looked like one of the Probe Team reporters. Jessica Soho she aint.

No need to divulge more details but it is suffice to say that there's lots of CSI investigative techniques applied there (by Saenz & not by the NBI) like cordoning off a crime scene (which is seldom done here because we prefer the cover-the-head-with-newspaper type of evidence gathering.) Also, there are enlightening and infuriating points in the novel showing that because of the stupidity of the NBI and the Police, serial killers can go on killing people with impunity. And yes, there are lots of mutilated bodies- with a gross factor of 8/10.

The novel stands by itself. It's a treat since only a few detective novels are set in the Philippines and it's a statement also for us Filipinos that serial killings can happen here too and not just in CSI:Miami. And the probability solving such crimes, heaven forbid, is infinitesimally slim.
Smaller and Smaller Circles is a definite must-read.

"Smaller and Smaller Circles is sleekly written, slowly building up the tension, and painting its characters...in a vivid, compelling manner."
- Rina Jimenez-David, Philippine Daily Inquirer

PDI columnist Ruel de Vera has this to say about the book (which has a more comprehensive review than mine):
http://www.inq7.net/lif/2003/may/05/lif_6-1.htm