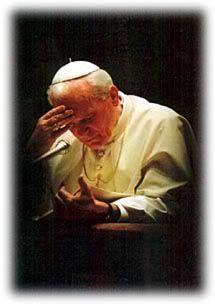 "You and I suffer for the realization of a universal divine plan. I wish you a speedy recovery. Now you have to confirm the Divine Truth that we are at the end of the world. This is the last generation of humanity on planet Earth. Only like this will God give you health and miraculous strength for the coming years."
-Turkish Assassin Ali Agca to Pope John Paul II, (Feb. 2005)

There has been quiet talk circulating in the Internet about conferring the title "the Great" to our present pope, John Paul II. Out of the 263 popes, only three were given this title: Pope Leo I, Pope Gregory I and Pope Nicholas I. Not a long list, is it? And soon, when our beloved pope will pass away, he might just get that title.
Taking into account that more than a third of the world's population is under 26, Pope John Paul's papacy is the only papacy these people have experienced, and this means that such a person has stamped his face and identity to the hearts of each one of them. He is already frail yet unbowed thanks to the dynamism of his 26 years in the papal throne. You can actually hear the poet Dylan Thomas read his poem "Do Not Go Gentle into That Good Night" to Pope John Paul II where you can hear him say, "Rage, rage against the dying of the light..." Truly, the burdens he faces add more weight to the physical cross he currently bears.
Controversies concerning dogmatic inflexibility particularly on topics such as female priests, same-sex unions, abortions and contraception have been perrenial thorns to his reign always pricking his infallibility with questions of doubt and skepticism. But he stood his ground which I myself am proud of. Notwithstanding, his parishes have been rocked by scandals concerning pedophile priests and the "blind-eye" routine of the hierarchy. This made him looked bad in the eyes of many. These harrassments deserve justice but because of the silent stance of the Church towards this issue, they have unwittingly compounded (instead of cushioning) the impact. At least, the priests today do not torture civilians (by tying their hands on the back and hanging the poor native midair), impregnate native women, sire mestizo half-breeds (that's why those children whose fathers were priests carry the surnames of De los Santos or Del Rosario), collect taxes, or censor books (like the anally ultraconservative Dominicans of UST) unlike the Spanish friars who corrupted themselves into sin two centuries ago. The caricature of Padre Damaso and Salvi by Rizal says it all. Padre Damaso might even had sexual designs for Basilio and Crispin that might partially explain why Crispin died.
But through it all, Pope John Paul became the beacon of hope in today's cynical world. He has cannonized more saints than all his predecessors combined. He may have even named one of them as Patron of Cyberspace and Patron of Texters. He broke the yoke of communism by being the fulcrum of change, as seen in Lech Walesa's Solidarity movement in Poland. He is the most widely traveled pope in history. He is the first pope to enter a synagogue in Rome and to visit a Mosque in Damascus. Even controversial world leaders like Fidel Castro, Yasser Arafat and King George W. (Bush) were humbled by his presence. Even if the pope is the leader of the world's smallest state, his opinions and views affect more than a billion people around the globe. His current hospitalization has instant spawned prayer vigils all over the world. So if anything happens to him, you can be sure that the whole of humanity will mourn his death. The only question remains: When? I certainly hope not in this decade.


Do Not Go Gentle into That Good Night"
Dylan Thomas

Do not go gentle into that good night,
Old age should burn and rave at close of day;
Rage, rage against the dying of the light.

Though wise men at their end know dark is right,
Because their words had forked no lightning they
Do not go gentle into that good night.

Good men, the last wave by, crying how bright
Their frail deeds might have danced in a green bay,
Rage, rage against the dying of the light.

Wild men who caught and sang the sun in flight,
And learn, too late, they grieved it on its way,
Do not go gentle into that good night.

Grave men, near death, who see with blinding sight
Blind eyes could blaze like meteors and be gay,
Rage, rage against the dying of the light.

And you, my father, there on the sad height,
Curse, bless, me now with your fierce tears, I pray.
Do not go gentle into that good night.
Rage, rage against the dying of the light.