The rainy month of
August
heralds the joint bargain sales of
Powerbooks
and
National Bookstore
to which I could not control myself but give in to temptation. As they say, the pleasure is in the hunt. How true. These are my recent acquisitions: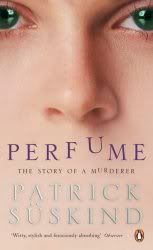 Perfume (Patrick Suskind)
[P245] – a scarce book that both stores do not carry. I found this sitting with other pricier editions inside
Fullybooked
and this Penguin Red Classics edition is the cheapest of the lot. Ever since
Penguin Red Classics
have been imported all the way from the UK, their cheap books are being highly sought after in Manila.
Love in the Time of Cholera
and
Lolita
were enjoying brisk sales because of its cheap prices and trendy covers, and now they're gone. Suskind's Perfume becomes that rare gem that juts out once in a blue moon. This promises a great engaging read especially that a German film of the same name is going to be released this year starring
Dustin Hoffman
and
Alan Rickman
.
Synopsis: "Jean-Baptiste Grenouille is abandoned on the filthy streets as a child, but grows up to discover he has an extraordinary gift: a sense of smell more powerful than any other human's. Soon, he is creating the most sublime fragrances in Paris. Yet there is one odor he cannot capture. It is exquisite, magical: the scent of a young virgin. And to get it he must kill. And kill. And kill…"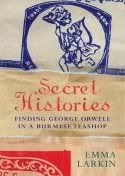 Secret Histories: Finding George Orwell in a Burmese Teashop (Emma Larkin)
[P219] – I read last year a favorable review of Larkin's Secret Histories in one of the weekly magazines, either Newsweek or Time. That made the title stuck into my head until I found the same book in a National bookstore bargain bin. The condition was not as pristine I wanted it to be, but the first chapter was enough for me to buy it. I am always a sucker for any oriental-themed literature especially the ones that touched upon western colonialism which is probably why I enjoyed the works of
Orwell, Maugham
(Collected Short Stories) and
Clavell
(Asian Saga.) Secret Histories is essentially a travelogue-cum-social-analysis of a westerner traveling Orwell's routes inside Burma while observing how Orwell's
Animal Farm, 1984, and Burmese Days
are mirrored in the present day Burmese. So far, I have read Burmese Days and Animal Farm and a bit of 1984, so reading this will be familiar. This one is for the beach!
Synopsis: "In search of the inspiration for George Orwell's uncanny prophecies, Emma Larkin follows in his footsteps. She finds his terrifying visions shockingly realized, an unwitting legacy that permeates the land of Secret Histories like its scents of betel nut and freshly brewed tea, and the sticky breezes of the Irrawaddy delta."
Death and Restoration (Iain Pears)
[P76] – While perusing the previously-owned book section of National Bookstore, I chanced upon Iain Pears' mystery series. So far, I have only read his
Instance of the Fingerpost
and though it was a good historical novel, I was not really impressed. It was circumlocutory and redundant. But from the net, his other novels have netted good reviews because of their Dan Brownesque pace and mystery. Since I enjoy reading murder mysteries involving the finer things in life like art, religion and history, this may become an enjoyable read. I am keeping my fingers crossed, but for the price of a Jollibee meal, it's worth it.
Synopsis: "General Bottando can't believe his rotten luck. He's just been promoted- to a position that's heavy on bureaucratic duties but disturbingly light on investigative responsibilities. As if that wasn't annoying enough, he's received a distressing tip about a planned raid at a nearby monastery. He's confident his colleague Flaviea di Stefano will be able to thwart the plot- but she and her fiancé, Jonathan Argyll, are beyond baffled. There's nothing very valuable in the monastery's art collection- except for a supposed Caravaggio that's currently being restored. There are no solid suspects- unless you count the endearing art thief, the flagrantly flamboyant 'Rotweiler of Restoration,' and the strangely shady icon expert. And there's really no reason to cause an unholy uproar- until someone commits an unconscionable crime…"
American Gods (Neil Gaiman)
[P99] – I found this tucked inside the bargain bin of a Powerbooks branch. Though I am not a fantasy aficionado, knowing the
fanatical popularity of Gaiman here in the Philippines means his works have great appeal among the Filipino teens and tweens
. With a price like that for a P750 book, this might be a good introduction for me into his genre, and it would be cool if I will end up enjoying American Gods. I'm keeping my fingers crossed. Just like his
Sandman series
, his American Gods promises another engaging and thoughtful read.
Synopsis: "Released from prison, Shadow finds his world upside down. His wife has been killed; a mysterious stranger offers him a job. But Mr. Wednesday, who knows more about Shadow than is possible, warns that a storm is coming- a battle for the very soul of America…and they are in its direct path."